Which Is Better: DisplayPort or HDMI?
You've probably read our previous two blog posts which have fully explained what an HDMI cable is and What a DisplayPort cable is, which tells you both can do the same thing: sending digital video and audio signals from a source device to a display. So here comes the obvious question: is DisplayPort better than HDMI? Which one should I choose in terms of my own situation?
The easiest way -- take a look at the shape of the interface
Although HDMI and DisplayPort have different shapes, for most users, there are only two shapes that can be touched commonly, so we focus on these two to distinguish them carefully.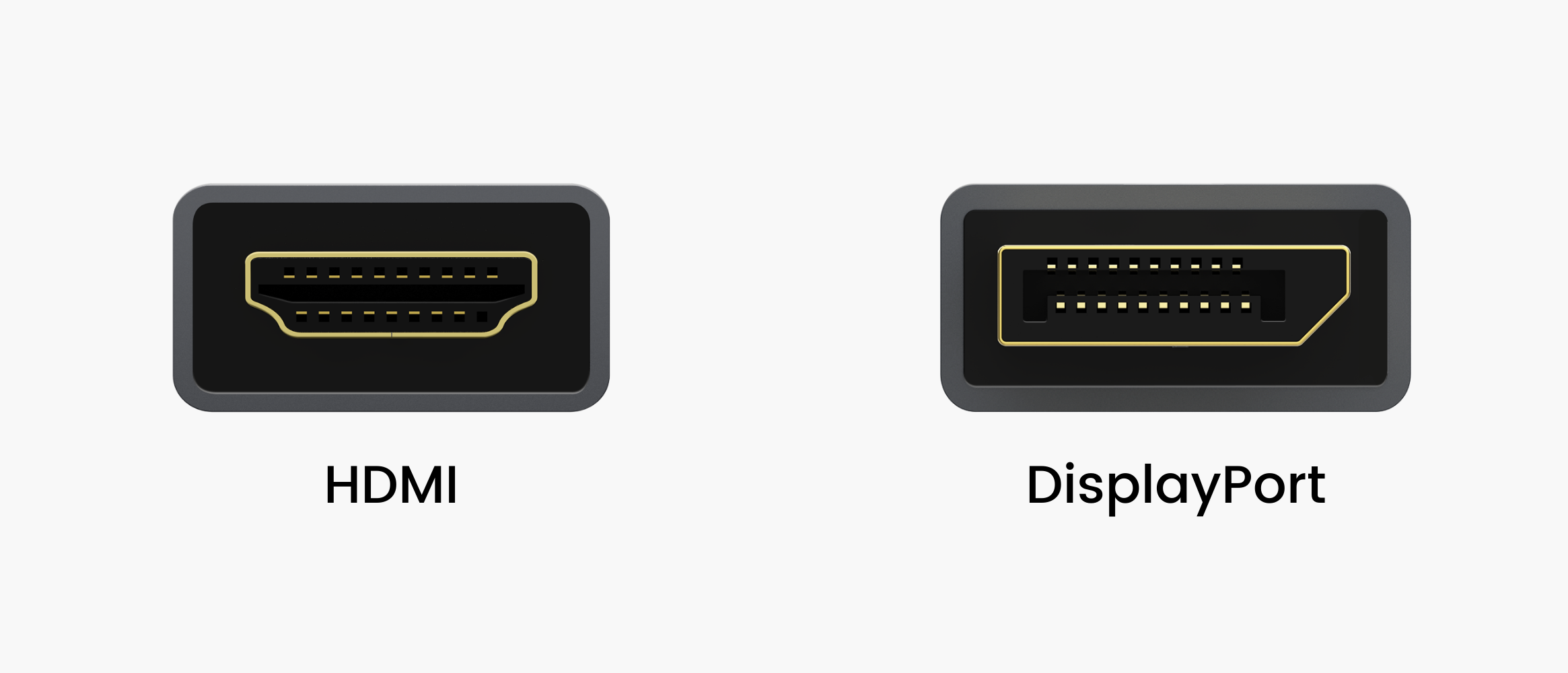 On the left is the standard Type A HDMI connector (19 pins), which is the most seen on the market. The vertically symmetrical design requires users to clearly distinguish between the front and back/upper and lower sides when using.
The one on the right is the standard DisplayPort connector (20 pins), and there is no symmetry at all. The rectangular shape with a missing corner allows users to easily identify the direction of insertion.
Quite a few brands have adapted a locking mechanism to secure the connection, and you need to press it while unplugging the cable. That sounds thoughtful, right? But customers tell us they forgot the mechanism and caused damage to the port when they tried to unplug. After considering the insertion and withdrawal force, we decided to cancel the lock and reinforce connectors on both ends so fine-tuned friction can do the work. Our latch-free DisplayPort Cables have served tens of thousands of happy customers.

Once you can recognize the shape of the connectors, everything becomes very simple. You only need 5 seconds to see what interfaces you have for the two devices you want to connect. See? That simple!
Ask yourself – what are you going to use cables for?
Well, if you don't have any devices by your side, and you plan to build your own workstation or decorate your house from scratch, choosing HDMI cables or DisplayPort cables can be flexible. Different needs may have different choices.
What do you use the cable for? Watching videos? Playing games? Generally speaking, HDMI dominates living rooms, but DisplayPort stands in the unique position of being popular amongst PC gamers.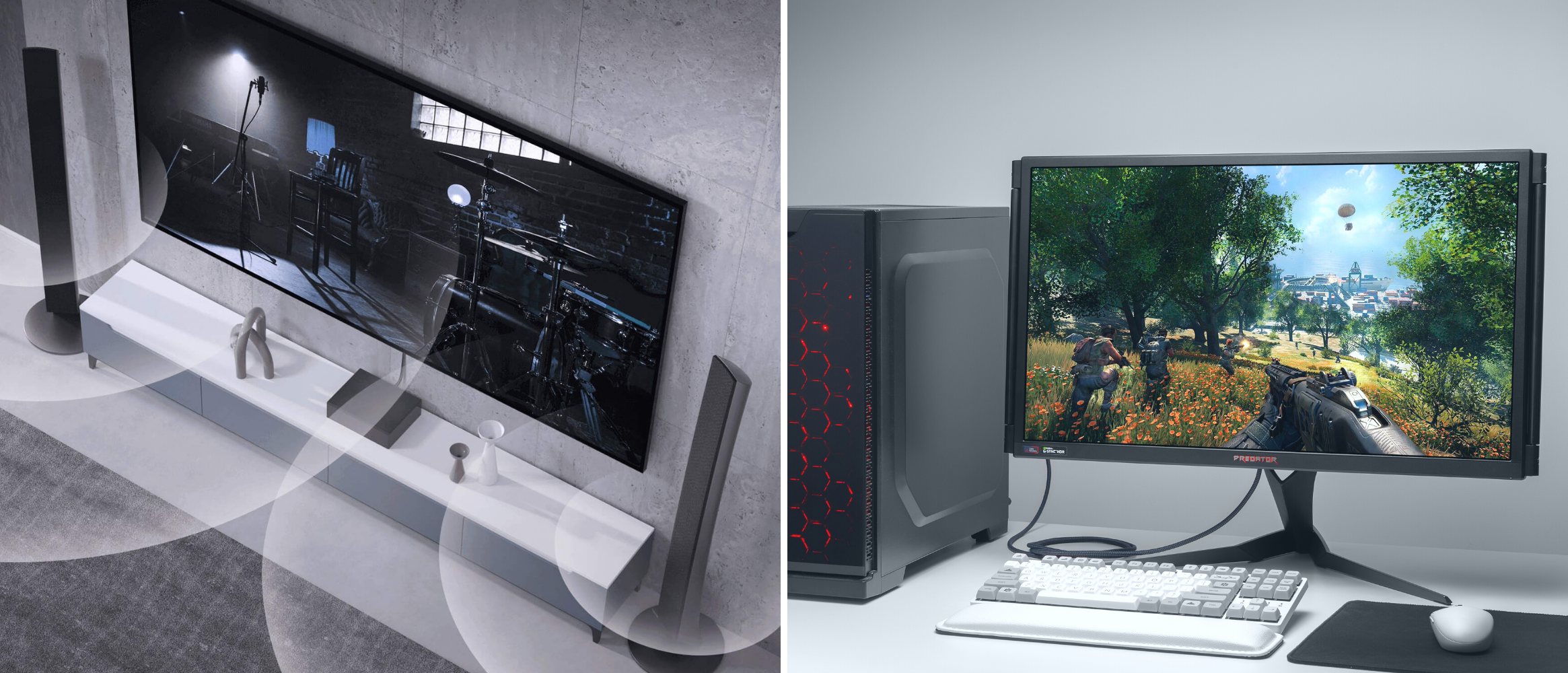 (HDMI is more commonly found in living room, while DP is more popular on gaming PC setups.)
Basically, if you want to build your own home theatre, or connect your newly bought PS5 or Xbox Series X to a TV, then HDMI might be your best option. Sure, you need to check the HDMI cables' specs before buying, you'll need the latest HDMI 2.1 Cable to make the most of your shiny new gaming console.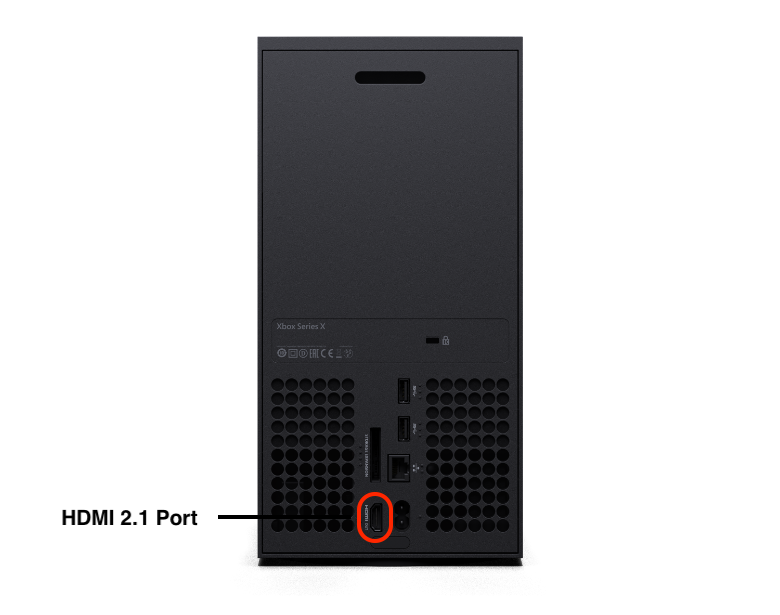 (The HDMI 2.1 Port on the back of an Xbox series X)
If you plan to build a top-end gaming PC and have special requirements for the accuracy of shooting and gaming experience, you will need DisplayPort cables since most professional graphics cards on the market feature DisplayPort interfaces for higher resolution and refresh rate. The GTX 3080 Ti, for example, is equipped with three DP ports, whereas it only has one HDMI port. This highlights the huge significance of the DisplayPort interface to gamers.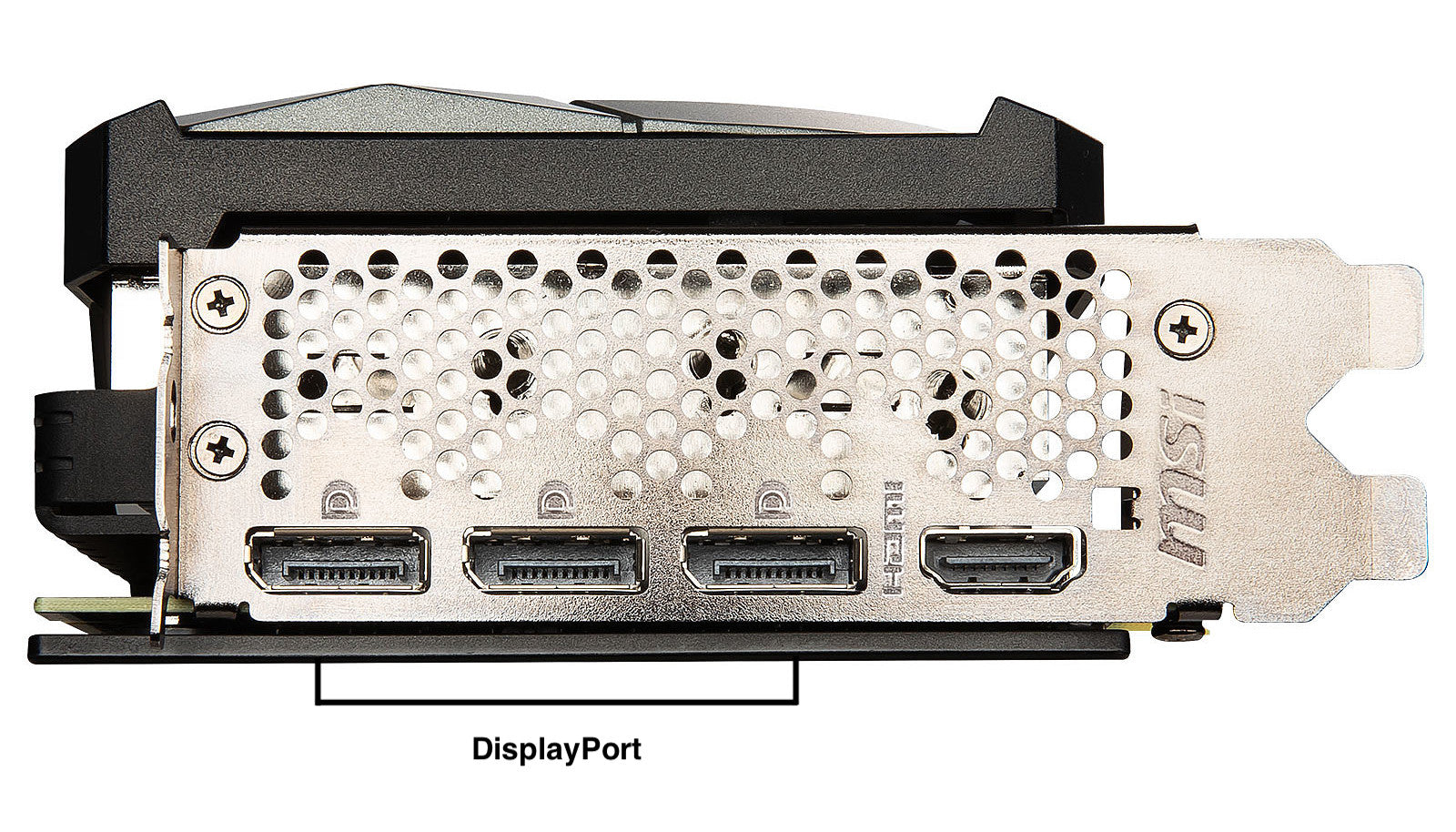 DisplayPort vs. HDMI: Format War or Progress for All
HDMI 2.1 vs. DP 2.0
Since it is already 2021, HDMI and DisplayPort have been updated to HDMI 2.1 and DP 2.0 respectively. If you want to find out which is better between HDMI and DisplayPort, then the question becomes which is better, HDMI 2.1 or DP 2.0.
Here's a quick overview of some key data: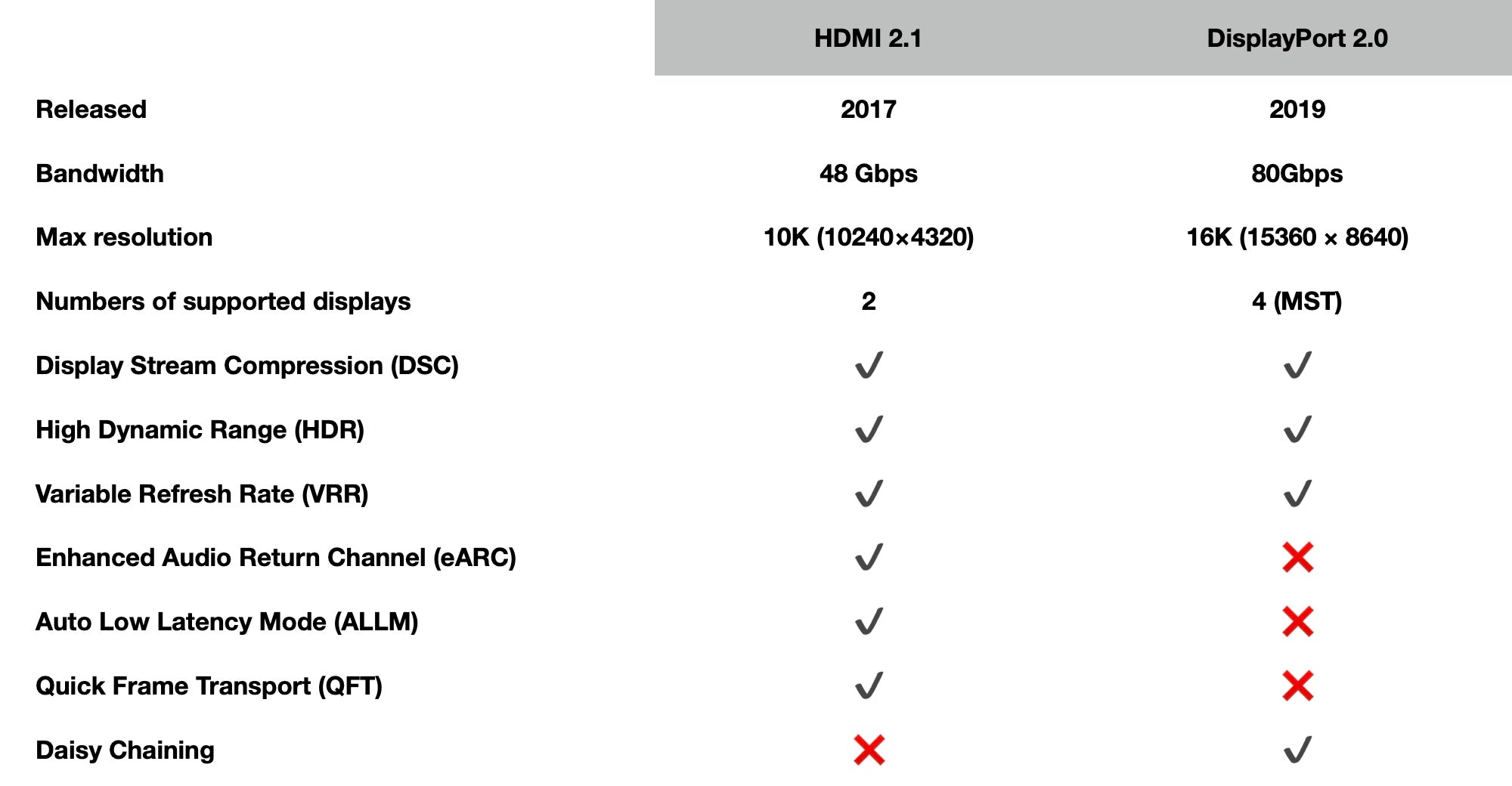 From the table you can easily see that DP 2.0 appears to be in the lead on paper. The 67% bandwidth increase provides additional possibilities for the use of the DisplayPort cables, such as higher resolution and refresh rate, to create a workstation with excellent performance for your own needs. For example, you can enjoy one 16K 60Hz display (with DSC), or two 8K 120Hz displays, or three 10K 60Hz displays (with DSC), all up to you!
Well, as for HDMI 2.1, it's not that bad. Although HDMI 2.1 won't be enough to build an unparalleled workstation with 3 high-definition displays, it is still remarkable. You can use HDMI 2.1 to connect one 8K 60Hz display, or just connect your newly bought PS5 / Xbox Series X to your 4K 120Hz TV.
It should be noted that although VESA announced some parameters of DP 2.0 as early as 2019, the complete standard parameters were announced in 2021. At present, VESA does not offer certification for DP 2.0 cable products, so customers are unable to find a certified DP 2.0 cable in the market. At the same time, devices have not been updated to adapt to DP 2.0, so DP 2.0 still only exists on paper parameters.
Looking forward to the official launch of its actual products, which will definitely change the A/V world.
when it comes to which one is better: HDMI 2.1 or DP 2.0? We'd say DP 2.0 has an absolute advantage, but it is a pity that it can't be bought or used currently. From this perspective, get HDMI 2.1 cables.
HDMI 2.0 vs. DP 1.4
Of course, HDMI 2.1 and DP 2.0 are not much (or not at all) visible on the market at the moment. The mainstream is still HDMI 2.0 and DP 1.4, so a comparison between these two seems more practical. See the following core data comparison: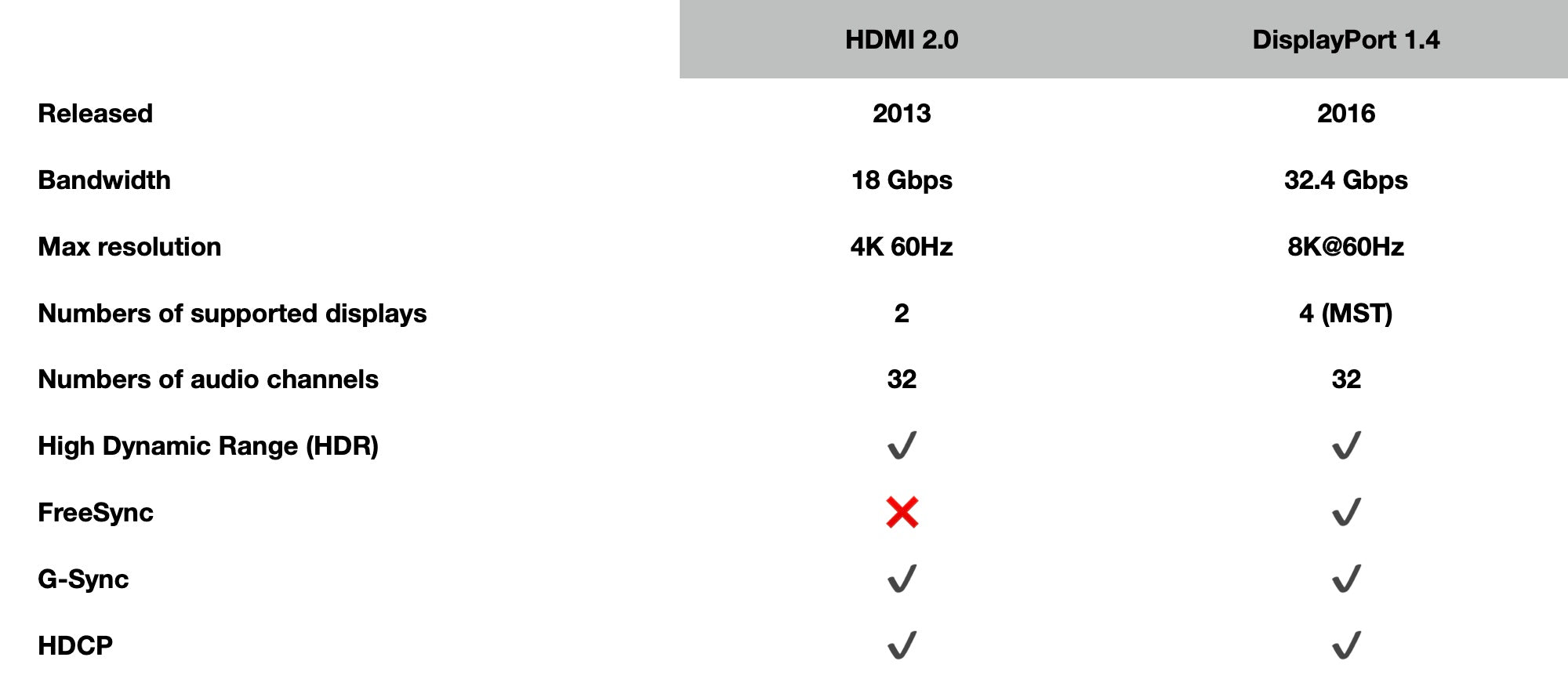 Similarly, DP 1.4, which has a late-comer advantage, is much more powerful in performance than HDMI 2.0. Not only is the highest resolution up to 8K 60Hz or 4K 120Hz, but it's also backwards compatible, while HDMI 2.0 does not have such a wide range of application scenarios.
However, HDMI cables are more commonly used in home theater and TV connections, while DisplayPort cables are more commonly used in professional graphics cards and gaming monitors. When we compare their parameters, yes, DisplayPort is indeed better than HDMI, but when it comes to taking money out of your wallet, it is recommended that you can choose according to the devices you want to connect and your devices' parameters.
You can also find HDMI 1.4 and DP 1.2 cables on the market. If you have made up your mind to splash out on a new 4K TV or 8K 60Hz monitor, then we highly recommend that you choose a cable that matches the performance without compromising your final viewing experience.
But if your displays are still from the previous generation, don't worry about whether upgrading the HDMI cables or DisplayPort cables to the new generation will affect the final effect. The cables are smart enough, they're all backwards compatible.
Related Products