12 Ports Connectivity:

This 12-in-1 docking station equips with a USB-C PD port and 2 HDMI Ports, 4 USB-A ports, an Ethernet port, a 3.5 mm AUX input, and an SD/TF card slot.

Dual Monitor Setup: Connect up to two 4K 30Hz monitors in extended mode using two HDMI ports. 

NOTE: Dual extend display only supports Windows OS, it doesn't support Mac OS.

Simultaneous Fast Charging:

This docking station supports up to 85W Charging for your laptop, or go down to 65W while the 18W Power Delivery port is occupied for charging your phone or tablet.

Slim and Sleek Design: A docking station that can also be used as a laptop stand, providing a better viewing angle and allowing you to keep your work desk tidy.
Fast Data Transfer:

Connect your external hard drive to the USB 3.0 port to transfer files at up to 5Gbps. And the SD/TF slots can read data simultaneously and transfer files with a maximum speed of 104 MB/s.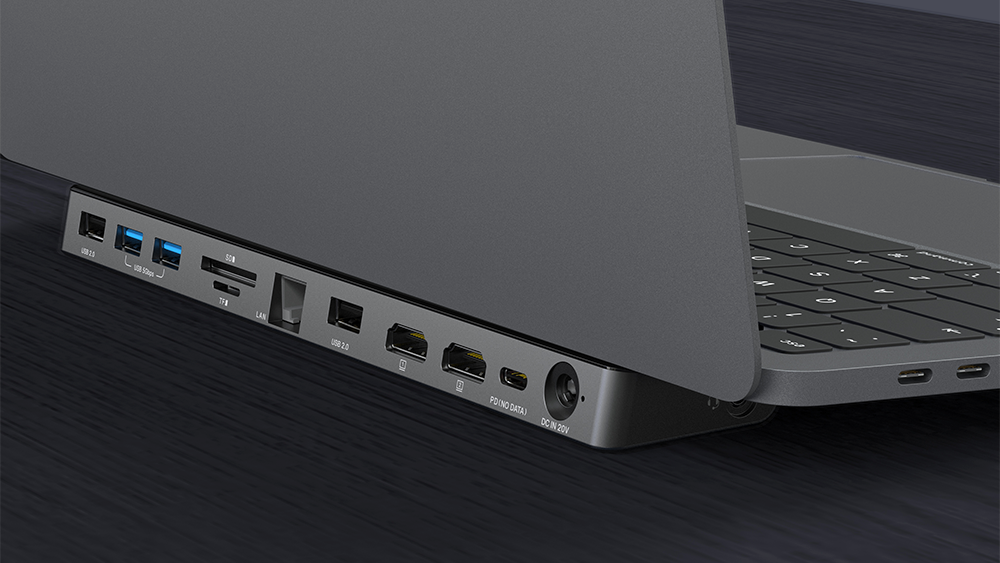 Hold Your Laptop as Well as Your Work
With the unique design of the angle, this docking station can hold up your laptop for a better view.
12-in-1 USB C Docking staion
2 x HDMI 2.0: Up to 4K@60Hz with HDR, 4K@30Hz, 1080p@60Hz, for HDMI-enabled monitor, HDTV, and projector.

1 x 18W PD: Up to 9V/2A (18W), only for charging for phones and tablets, etc.

2 x USB-A 3.0: Up to 5V/1.5A , up to 5Gbps, for smartphones, USB flash drive, mouse, keyboard, and more.

2 x USB-A 2.0: Up to 5V/1.5A, up to 480Mbps, for smartphones, USB flash drive, mouse, keyboard, and more.

1 x SD/TF card reader: UHS-I mode, 104MB/s, up to 512GB capacity, read and write with SDXC, SDHC, SD and TF cards.

1 x RJ45 Ethernet: 1000/100/10 Mbps ( It requires a CAT6 or higher Ethernet cable to reach a maximum 1000 Mbps internet speed ).

1 x 3.5mm audio: For headphones, speaker, microphone, or other audio equipment. (less than or equal to 32 ohms)

1 x 100W power output: A maximum 100W which means you can charge any Windows Os Laptop at full speed , or the laptop charging output is reduced while the PD output is connected to device.
Dual Monitor for More Convenience
No need to download any driver, just connect to 2 HDMI ports and you can use the dual monitors in 4K.Mirror mode and extend mode can be used based on your needs.
Flexible Screen Configurations
This USB-C docking station supports both mirror mode and extension mode.
Supports mirror mode on dual screen set-ups on Windows OS and MacOS.
Dual extension displays only support Windows OS, NOT macOS.